Smriti Zaneveld founded Houston-based Lazarus 3D to transform the way surgeons are trained. She was one of the winners of USPAACC's 2019 What's Your Pitch: Innovations Meet the Market competition. We checked in with her to see how her company has grown and get her advice for future contestants. 
This year's What's Your Pitch competition will be held online. Applications are open until June 15th.
Tell us a little bit about the story behind your company.
My co-founder Jacques and I started Lazarus 3D when we were students at the Baylor College of Medicine. We saw an urgent need to improve how physicians were getting trained. Students, residents, and fellows were being trained hands on medical skills using fruits and  vegetables. They were practicing surgically treating bladder cancer, for example, using a green bell pepper. The reality is that when physicians do learn, they are learning on the job, which means there's an inherent risk to the patient. This inadequate training can lead to complications that result due to medical errors.
The need for better hands-on training was so obvious that we decided to do something about it. To help improve medical training and patient outcomes, we developed a patented technology that allows us to create realistic copies of patients using their MRI or CT data. These soft replicas of patients' organs can be used to perform surgical rehearsals ahead of time, before a patient's operation. This lets doctors optimize their surgical plan and practice in a safe way. 

What has the last year been like? How has winning impacted you and your business?
USPAACC was the first check we won! It was very exciting and it helped us so much as a young and growing startup. It was the first time I presented on stage and got judged on a national platform. It was fun and exciting and it motivated me to do more pitch competitions where I won a few more checks.
This momentum helped our company grow. Shortly after the USPAACC pitch competition, we hired our head of biomedical engineering. She's been with us a little over a year. Our revenue and our scale-up for production and sales has also been going well. 
We've had a lot of visibility in part due to USPAACC and other competitions, which draws people to us. We were profitable in the third quarter of last year, four years into a startup. That's not an easy feat. We're proud of that.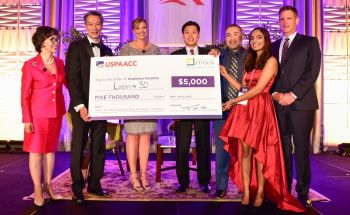 It's hard to believe this was your first pitch competition. When you were on stage, you were such a natural. What advice would you give to future contestants?
I know USPAACC doesn't give you a lot of time, so you really have to consolidate your pitch. Don't just focus on the technology. If the technology is so unique and going to change the world, you should be able to convey that in the first minute. After that you should spend time talking about who your customers are, how you're going to sell, how you're going to profit, what your timeline is, and what your milestones are. Also, the ask — you need to have an ask. What do you want from the audience?
My other advice is not to read from a paper. You're the expert. You created this. So no one in the room knows this more than you!
How is your company doing now during COVID-19?
During the onset of the COVID-19 pandemic, a lot of hospitals we work with reached out to us asking whether we could 3D print personal protective equipment (PPE) for them. We immediately made the decision to temporarily pivot from manufacturing 3D printed copies of patient-specific organ replicas to manufacturing face shields and face masks.
Within 48 hours, we designed, tested/vetted and iterated our prototypes using 3D printing. After getting feedback from various physicians at hospitals in NY, DC and Houston, we finalized the best design and set up mass production of face shields. Immediately, we also took out significant loans from our investors, who worked quickly to help us with funding, which was instrumental in achieving everything.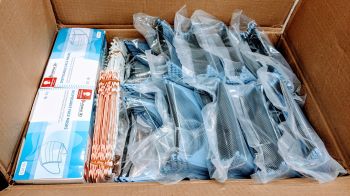 There was no time to spare. Our entire time was working around the clock. We also partnered with a factory that re-purposed their production facility to manufacture face shields for us. We knew that we had to address this massive PPE-shortage urgently since the Houston community hospitals in the Texas Medical Center had run out of face masks.
We have now provided close to 1.4 million face masks and over 100,000 face shields to both local and national hospitals.
Recently, many states have started reopening, so we launched order-ppe.com, a one-stop shop for individuals and small businesses to buy high-quality face masks, face shields, thermometers and other essential supplies affordably. We are fully stocked and all orders ship same-day within the US.
We are amazed by the support our community has provided and are so proud of our entire team!